Introduction
In today's world, it is a challenge to maintain a healthy lifestyle. With fast food and busy work schedules, it is hard to make time to eat healthy and exercise regularly. According to the statistics from WHO, cardiovascular disease is one of the leading causes of mortality globally, with 17.9 million people dying annually.
One easy way to keep track of your health is by checking your heart's blood pressure. It is vital to keep tabs on blood pressure, as high or low blood pressure can cause life-threatening health conditions. 
Wrist blood pressure monitors
How do they work?
Wrist blood pressure monitors are devices that measure blood pressure from the wrists. They are worn like a wristwatch on bare skin. The monitor works by measuring blood flowing through arteries in the wrist and then converting it to a number that indicates the blood pressure.13
Wrist blood pressure monitor accuracy
Wrist monitors can give accurate readings if used exactly as instructed. However, the American Heart Association advises against using finger or wrist blood pressure monitors. Instead, it recommends using a home blood pressure monitor that measures blood pressure in the upper arm rather than the fingers or hands.3
Blood pressure readings
Blood pressure tests measure the pressure in the arteries as blood is pumped around the body. It can be used as a general check-up or as a hypertension screening. The number of times blood pressure tests are performed is dependent on the individual's overall health and age.1
Medical professionals will usually take blood pressure measurements manually, but may sometimes use wrist or arm blood pressure monitors. The test is usually performed while seated, with feet flat on the floor and arms at heart level. The cuff is worn on the upper arm, with the bottom of the cuff just above the elbow. If the test shows a reading outside of the normal range then three more tests - each one week apart - are done to determine if treatment is needed.1
Expected blood pressure readings for a healthy individual
The expected blood pressure reading for a healthy individual is considered to be between 90/60mmHg and 120/80mmHg.2 The ideal blood pressure varies depending on ethnicity, age, and health.11
The blood pressure readings show the systolic blood pressure (larger number) over diastolic blood pressure (smaller number). Measurements are shown in millimetres of mercury as "mmHg" on the monitor.11  
Low blood pressure readings
Low blood pressure, sometimes known as hypotension, is a less common condition. If an individual has a blood pressure of 90/60mmHg or below it would be considered low blood pressure.2 Symptoms of low blood pressure include:
Nausea
Light-headedness
Dizziness
Low blood pressure can be caused by a variety of underlying conditions, including dehydration and heart failure.12
High blood pressure readings
High blood pressure, often known as hypertension, increases your risk of developing several long-term health problems such as kidney disease and coronary heart disease. High blood pressure is defined as a blood pressure value of 140/90mmHg or greater.2 It is commonly associated with poor lifestyle choices, such as:
Not exercising
Being overweight
Smoking
Drinking excessive quantities of alcohol
High blood pressure is often a symptomless illness with many long-term implications for one's quality of life. It is vital to always keep an eye on your blood pressure by taking regular blood pressure readings.11
Wrist blood pressure monitors pros and cons
Pros
Wrist blood pressure monitors can measure blood pressure when a person is unable to use an upper arm monitor due to immobility.13
Sometimes an upper arm cuff cannot wrap around well to measure blood pressure. Wrist monitors are a good alternative when the upper arm is more conical shaped. This increases the time for the cuff to inflate, as it takes longer to cut off blood flow in the arm to measure blood pressure. This can lead to an inaccurate measurement.8
Wrist blood pressure monitors are compact, light, and convenient to carry and pack. If someone needs to travel or wear a wrist blood pressure monitor at work, this makes them incredibly useful.13
The squeezing of the blood pressure cuffs may be uncomfortable. Wrist monitors are more comfortable and reduce anxiety before the measurements are taken. If blood pressure is being measured multiple times a day, using a wrist blood pressure monitor can help reduce some discomfort associated with wearing the cuffs.9
All wrist blood pressure monitors are automatic, this means that they are easy to use and understand.13
Cons
Wrist blood pressure monitors measure blood pressure in the radial artery of the wrist, whereas upper arm blood pressure monitors measure blood pressure in the branchial artery of the upper arm. Because the radial artery is thinner and closer to the skin's surface than the branchial artery, the wrist monitor readings may be inaccurate.10
Blood pressure readings, using either an upper-arm cuff or wrist monitor, must be taken at the same height as the heart. If this positioning of the monitor is any higher or lower the readings may be incorrect. It is easier for an upper arm monitor to be positioned at heart level because the upper arm is almost naturally at heart level.9
Wrist cuffs are generally not as reliable and accurate. The American Heart Association does not suggest wrist blood pressure monitors since they provide less accurate readings.4
Are wrist blood pressure monitors reliable?
What affects their readings?
Wrist blood pressure monitors are often criticised for giving false readings. Some of these readings are not due to the fault of the wrist monitor but because of other reasons, such as if:10
The cuff is either above or below the level of the heart.
The cuff is excessively tight or loose.
The size of the cuff is not a good fit.
The cuff is incorrectly positioned.
The wrist or hand is not relaxed.
The wrist is not laying flat.
There is no support for the arm or body.
What is the most accurate way to monitor blood pressure?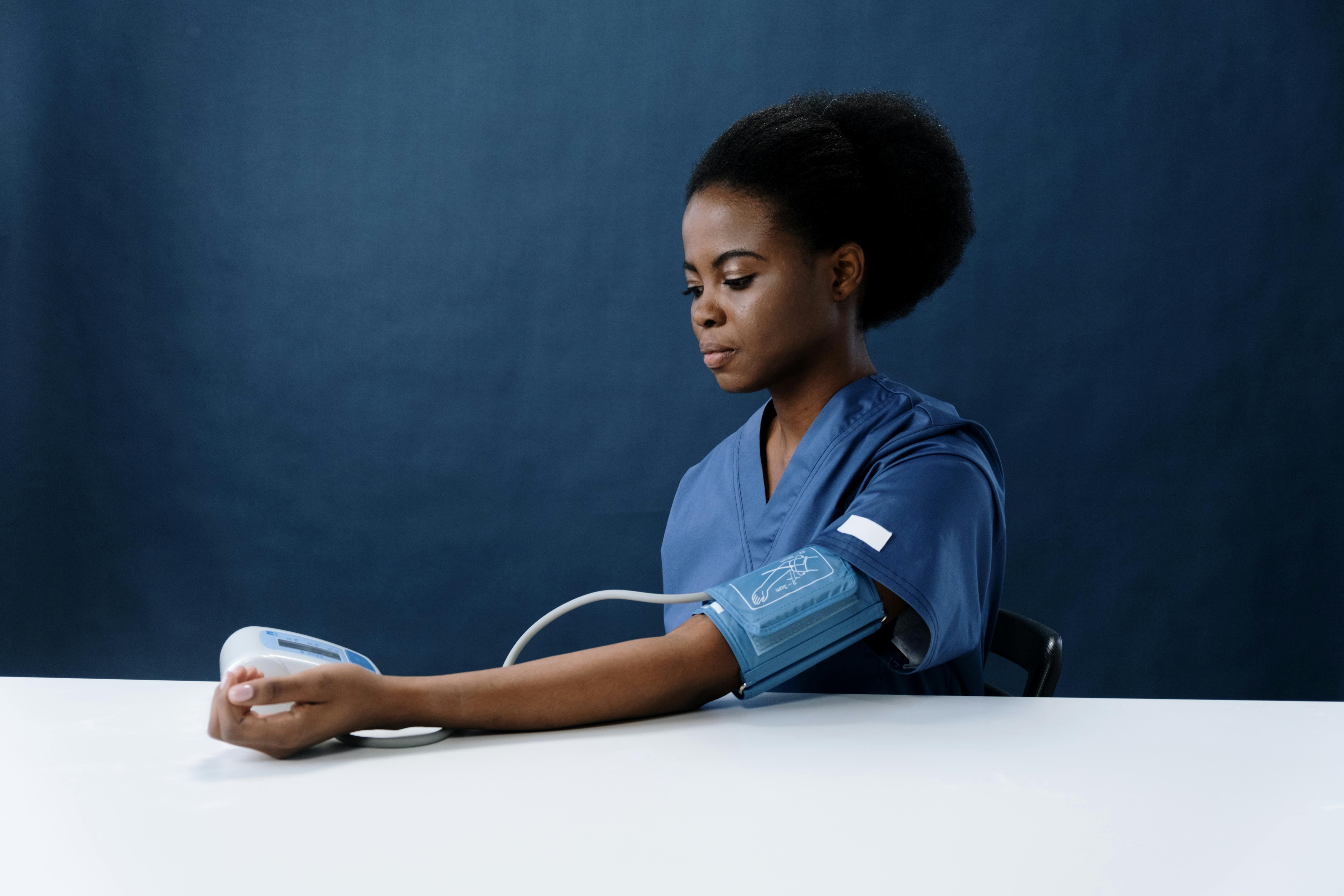 To get the most accurate reading you can get a digital blood pressure machine to check your blood pressure at home regularly. You can use an arm or a wrist blood pressure monitor but it is recommended that you use an arm blood pressure monitor which measures your blood pressure in your upper arm, rather than your wrist or finger, to get the most accurate readings.4
Checking your blood pressure at home
To get a precise reading:
Don't drink caffeinated beverages, exercise, or smoke for at least 30 minutes before taking your blood pressure.
Go to the bathroom and take at least 5 minutes to relax before taking the test.5
Sit with a straight and supported back, with both of your feet on the floor. Your upper arm should be at heart level and supported on a flat surface like a table. The bottom of the cuff should be directly above the elbow bend.5 
Measurements should be taken at the same time every day. It is recommended to take your blood pressure readings every day, or as requested by your doctor.5
You should avoid taking your blood pressure measurements over clothing, or when wearing tight clothes.5
When should I contact my doctor?
One elevated blood pressure reading shouldn't cause alarm. If your blood pressure measurements at home don't match those taken in your doctor's appointments, don't worry. If you routinely encounter high or low blood pressure readings, double-check and speak to your doctor. Check your blood pressure monitor with your doctor.5 
Summary
Wrist blood pressure monitors are convenient, but not always reliable. They can be difficult to use effectively and need to be carefully set up to provide reliable results. Sometimes it is recommended to use an upper arm monitor instead, as they are easy to use and often give more accurate readings. However, wrist blood pressure monitors have their advantages. They are easier to use on the go, and provide fewer restrictions for people with restricted mobility. They are also a good alternative for people who find arm cuffs uncomfortable or difficult to use.